Jurassic World: Dominion Dominates Fandom Wikis - The Loop
Play Sound

Middle_Sand a.k.a. Mids, Ada, adadot12, Dottie, Crystaline_, etc., is the owner and primary founder of Dotarch.
Pre-Dotarch
Mids has been doing development work since 2015, starting out with developing Minecraft mods for version 1.6.4. She then moved to server design and made several private servers to widen her skills. She then moved into Java application design.
Founding - Launch
Mids was brought into the guild NewCadia in the summer of 2020, and was made leader by Gogz_. In her spare time aside from streaming on Twitch, she started working on a project on her private computer. This project would eventually become Dotarch. She teased the project with the Discord for NewCadia, hosting was purchased by Gogz, and development officially began.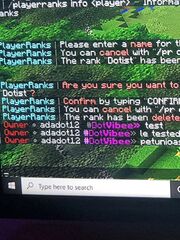 She built around 80% of the server overall, working with the configurations, hosting stuff, marketing, game design, visual design, product design, etc., sometimes working 14 hours a day. One may consider her the hardest-working on the server during this time.
Launch - 2021
Mids was the one who turned off the whitelist for the server upon launch at exactly 4:00:07 PM EST on August 26th, 2020. She proceeded to continue to stay up late nights during the last days of August and into early September watching over the newborn server. Then Mids burnt out for a while, distancing herself from the server for some time. She recovered quickly and by mid September she was back at it.
October saw the launch of the Dark World and Mids' first attempt at coordinating an event/series of events. Mids then proceeded to orchestrate the movement of the server onto the second host and the addition of Bungee support in preparation for the launch of RaidArch. This was when she along with Doc and SimmplyDrawn coined the name TradeArch.
The rest of 2020 was mostly uneventful besides the movement of the server to the third host, almost entirely eliminating ping-based latency.
2021
Mids began 2021 with KevArch, which ran through January, as well as resurrecting the Dark World through the addition of getting claim blocks from killing monsters in it. RaidArch was shut down as well, due to it not receiving any joins for a month.
February started out with a major staff restructure which flung Mids into a more relaxed yet just as vital position, Owner and Manager of Technological Systems. Mids hired TheNiceBob and with his help along with the rest of the team MiniArch was launched.
MiniArch completely flopped, and was eventually taken down as 1.17 and host #4 rolled in. Mids completely redesigned TradeArch for 1.17, calling it TradeArch v2. Many changes were implemented, including an attempt to emulate a real life economy. This attempt did not succeed, however v2 was moderately successful given the circumstances.
When 1.18 rolled out in November, Mids was already planning her next moves. TradeArch was once again renamed to Legacy when the server updated to 1.18 fully, and Legacy thus far has been successful.